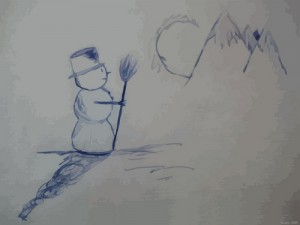 The little mouse was scuffling, through the snowy leaves
looking for a bite to eat, some crumbs perhaps or cheese.
The winter air was dense and cold, blocking out the light
'I'll have to wrap up warm' he thought 'to keep me safe tonight.'
With berry boots and feather mitts he hurried on his way
for it was almost midnight and the eve of Christmas day.
The stars above danced kindly, to guide him through the frost
but he had ventured far from home, and suddenly was lost.
'Oh no!' he cried his whiskers wet with tears that he had shed
'Whatever am I going to do?' My children must be fed!'
He sat upon a lump of ice, unsure of where to go
when a voice above him politely said 'You're sitting on my toe!'
The little mouse looked up to see a ball of white above
the lonely eyes though black as night were filled with shining love.
'Oh please kind sir' the mouse did cry 'help me find my way
-my children are so hungry so I really cannot stay.'
The snowman gave a crooked smile 'I'll help you friend' he cried
and scooped the little mouse into a pocket at his side.
Through drifts as tall as mountains they squeak-puffed through the snow
until they came to rest beside a sprig of mistletoe.
The little mouse popped out his head and gave a happy grin;
'Oh snowman it's my house you've found, you really must come in.'
And so it was on Christmas day, the strangest sight to see
was a snowman and some little mice, all sitting drinking tea!
image courtesy of vectorised@flickr.com & Dave Klienschmidt @ Flickr.com