I thought that I had used all the procrastination excuses in the world.
"My Curtains look creased – I must iron them immediately."
"If I don't send this scratch card I got in a newspaper which says I have won £100,000 (or a mug with a picture of a fish on it) then I might miss the deadline and be poor forever."
'I think today… I really need to focus on my feng shui.'
Oh yes, I had come up with many excuses over the years, as I proudly convinced myself to be about half as productive as I could be each and every day. ✨
However, all those excuses paled in significance when a new little bundle of joy came into my life.
If you ever want to do no writing, get a puppy. Get a puppy now.
The great thing about using a puppy as an excuse for writing procrastination is that you really do need to focus a lot of time and energy on them. Otherwise they will chew through your laptop cable, get electrocuted and die. Plus they are super cute to look at, and cuddle, and dress up in hats.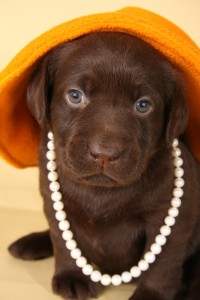 Obviously, you can't BLAME your puppy for being the reason why you are doing no work; it's not their fault they are so adorable and helpless. And of course you can't BLAME yourself either – the puppy needs you, the puppy must be watched at all times, the puppy was incredibly expensive and is non-returnable, so you need to make sure it stays alive.
Of course, the problem with a puppy, unlike curtains which will always need ironing, is that it grows up. What used to be a gorgeous dopey-eyed bundle of fur becomes a scraggy pudgy bag of farts – with fairly severe halitosis to boot. Plus they kind of stop needing you all the time (how fast they grow up) and so the whole 'I'm doing this to keep it alive' theory starts to feel pretty unconvincing.
The problem with writing procrastination is that as long as we are doing something we deem to be necessary and worthwhile, we can keep those feelings of guilt at bay (for a while at least). It's only when you get to the end of the day and note that you have achieved nothing apart from creaseless soft furnishings that you start to feel as though there were probably better things you could have done with your time.
So how do we combat writing procrastination?
To get to the bottom of why we procrastinate our writing, we need to understand why we do it.
There can be several root causes:
We actually don't like writing (and that's OK).
You don't have to like writing, you know. In fact, if you want to, you can stop doing it altogether. (She says, eliminating the competition one article at a time). Sometimes people keep writing because they think they have to. They believe that if they give up on their 'dream', they are letting themselves down and can never truly be happy.
But it is OK to take stock from time to time and think to yourself, 'do I actually want to do this anymore?'
Dreams and passions change. What we wanted for ourselves when we were 20 isn't the same as what we want for ourselves when we are 40. If you are always looking for excuses not to write, maybe it's because you don't want to anymore.
Fill your time with things you love to do, and you'll know you are doing the right things for you. Just think how freeing it could be to say 'Oh I actually don't want to do this anymore, what do I want to do?'
We are scared of writing.
Writing can be painful and frightening. When you write you are basically being vain, self-indulgent and self-obsessed.
You are also incredibly vulnerable.
It's an odd juxtaposition because if you share your writing with the world, you are basically saying, 'hey! Look at what I did! It's good, right? Is it good? Umm hello? Someone, please, tell me it's good!'
It's kind of needy when you think about it, and so it's understandable that we sometimes shy away from sharing our writing in the first place.
However, if you don't, you run the risk becoming one of 'those' writers, you know – the ones who talk incessantly about writing yet are too precious to share it with anyone. The ones who seem sullen and irritating and weirdly arrogant, despite the truth being that they are probably crippled by insecurities and fear (and just wear those tartan suits and rainbow loafers because they are comfy, not because they think of themselves as an 'artist').
We need to believe in ourselves enough to think that writing should be a priority.
Writing might mean facing up to who you are. When you write you can't help but explore emotions that you've felt, and situations that have meant something to you. Even in the most fictionalized books, an author reveals something about themselves through the story and the characters they create. So it's tough to put that out there. The potential for rejection is brutal and relentless – kind of like being beaten up and then getting on a bouncy castle over and over again. You might be fine, just don't fall ov…oh.
However, you also need just to stop being a big baby. Doing things that scare you is part of what makes life exhilarating, what helps you grow, what makes you feel alive.
As the great comedian George Burns rightly said: "I honestly think it is better to be a failure at something you love than to be a success at something you hate." Or, as the great* writer Bethany Cadman said: "just stop being a big baby."
Is Writing Procrastination Just Laziness?
Writing isn't easy. It's kind of like a gym session. The good stuff comes at the end after the hard work is over. Getting yourself in the mindset to go to the gym is hard, especially if there are those two little devils Cake and Netflix whispering in your ear.
Being at the gym makes you self-conscious, sweaty and out of breath. But post gym, oh sweet post gym! You feel elated, proud and totally committed to doing it all again tomorrow as you wobble your slightly less wobbly self all the way home.
Writing is the same. We try all sorts of bizarre methods to wriggle our way out of it. When we're doing it, we feel self-conscious, sweaty, and yes, even a little breathless at times. But oh my! The feeling once we have finished that next chapter or written that extra 1000 words – it's pretty unbeatable, and the more we do it, the more we want to.
So really what you need to ask yourself is what would you rather be doing? Following your dreams, writing your little heart out and finishing the day feeling like your own personal cheerleader? Or giving in to Norman Netflix and Cassandra Cake and ending the day beating yourself up while berating your chubby, crumb-covered face and softly weeping into a pillow?
My beautiful puppy is old and fat now. No one has ever complimented me on the straightness of my curtains. I have moved my furniture around so many times I think it's the same as when I started.
I love writing, even though sometimes I wish I didn't. So now it's time to get down to the writing gym of life, stop procrastinating and just get on with it! Will I see you there?
*I am great at writing, my mother told me so.
What are the weird and wonderful ways that you procrastinate? Or your tricks and tips to combat procrastination? I'd love to hear them!